As a homeowner or business owner, you want to upgrade the look of your space tokeep things looking and feeling fresh.
You may have already figured out the color, but there's something you need to know. Paint is more than just that!
Paints come with different properties, and each has a different purpose.
When starting a painting project, start on the right foot.
There are two types of paints: exterior and interior.
We will help you understand the differences, but we'll start with the basics of interior vs. exterior paint.
Basics of Paints
All paints are formulated from the same components, including additives, resins, pigments, and solvents.
The solvent is the component that makes the paint "wet."
It evaporates over time as the paint dries after application.
The solvent can be oil or water-based.
Oil-based paints are usually used for the exterior, while water-based solvents are found in both interior and exterior paint.
Every ingredient is crucial. Pigments give the paint its color.
The additives equip the paint with physical effects such as UV resistance, water-resistance, and components that make the paint durable.
They also help the paint resist mildew growth and make it easier to clean.
Resins bound the paint to the surface. They can be made of acrylic, epoxy, or silicone.
Both exterior and interior paints share the same solvents and pigments.
Another feature drawing the line between them is whether they are oil-based or water-based.
Oil-based paints are not recommended for interior painting because of the odor and are challenging to clean up.
Interior Paint: Overview
Interior paint covers the inside of your home.
The paint is ften made to withstand scrubbing and washing, although exterior paint is more durable and waterproof.
Interior paint is low in VOCs and other harmful chemicals to keep your family safe and preserve the air in your home.
This paint is used for aesthetics and decoration, and it has stain-resistant properties.
It can also withstand abrasion and doesn't need sunlight to get cured.
If hit by direct sunlight, the organic pigments used in the paint fade quickly and will be susceptible to cracking and flaking.
Exterior Paint: Overview
Exterior paint is for painting the outside of the buildings.
This paint is exposed to harsh weather conditions like snow, rain, and direct sunlight.
Therefore, it must have protection against ultraviolet radiation from the sun and moisture caused by rain and snow.
Exterior paint will withstand hard sunlight without cracking or fading.
It will also resist chipping and flaking from impact with twigs and debris.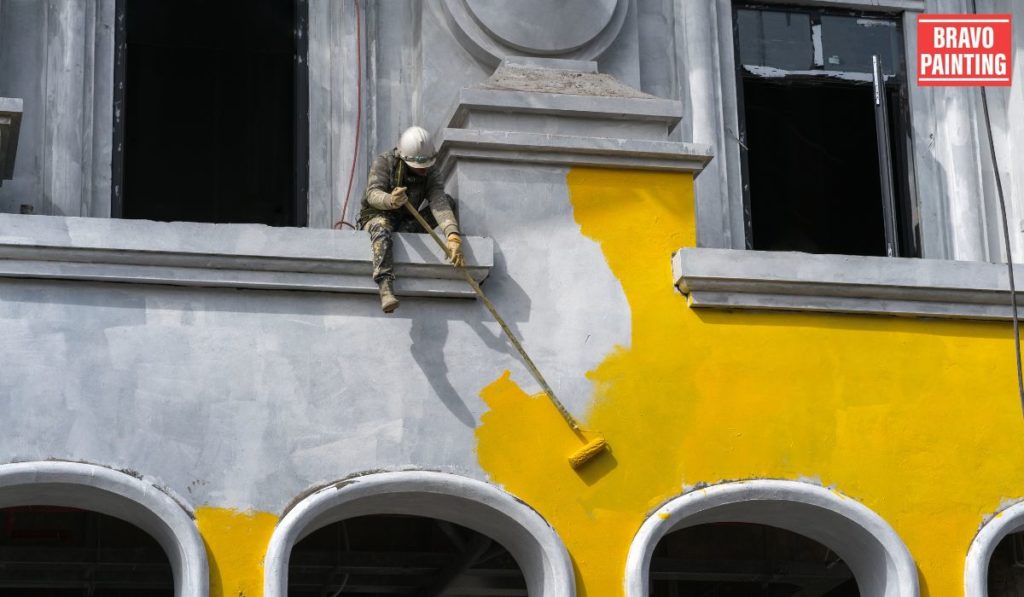 More resins and additives are used to make exterior paint outgas while drying.
The process goes on for several years.
The paints also contain mildewcides to prevent mold and mildew.
Mildewcides cause respiratory issues and should not be used in the interior.
Exterior paint requires sunlight to cure.
Interior Paint vs. Exterior Paint: The Difference
The main difference between the paints is the type of additives and resin used.
Both paints will change the color of the surface you apply them.
That's what paints are for, but that's the only common thing about them.
Here's the main difference between the two types of paints.
Pigments
Pigments are what give paints color.
They are typically finely ground natural materials.
Instead of additional chemicals in the mix, interior paints have organic pigments.
Organic pigments are likely brighter in color.
Synthetic pigment, on the other hand, tends to be dull in color and is used in exterior paints.
Synthetic pigments make exterior paints more durable but also create harsh odors that are not allowed inside the home or business.
Synthetic pigments resist harsh weather, but organic pigments fade when hit directly by the sun.
Resins
Resins bind the pigment to the surface that the paint is being painted.
Exterior paints use acrylic as their binding resins.
However, acrylic resins produce harsh odors but have a stronger bond and will make the paint on your exterior surface durable.
Interior paints use epoxy and silicone resins because they don't produce odor.
These resins are softer and more flexible, allowing the paint to adjust as the surface of the painted material expands and contracts.
Additives
Interior paints don't have many additives because they don't have to deal with harmful situations.
Exterior paints, on the other hand, have to deal with weather, temperature, and debris. Therefore, exterior paints have added additives to help them resist fading and abuse.
Dry Time
Oil-based paints dry slower than water-based ones.
Water-based exterior paint dries more quickly than water-based interior paint.
This is because interior paints don't get the heat and constant airflow that help with drying.
Interior vs. Exterior paint: The level of hazardous materials greatly differs between the two!
Level of VOCs
Volatile organic chemicals (VOCs) release hazardous fumes that can cause respiratory issues.
Interior paints are low in VOCs, while exterior paints have many of them.
The VOCs in the exterior paints will outgas into the open air after they have been painted.
Wrapping Up
There are many things to know when choosing exterior and interior paint for your home.
Most manufacturers specify the type of paint in the bucket or can.
Using external paint inside the house has its health risks.
Interior paint will fade and dull if used outside.
If you're having a hard time picking the right paint for your home, talk to Bravo Painting.
Our professional painters will help you pick the right exterior or interior paint for your space.
Our contractors will also paint your home and make it look new. Call us for a quote.
Conclusion:
In conclusion, choosing the right type of paint is essential for any homeowner or business owner looking to upgrade their space.
Understanding the differences between interior and exterior paints is crucial in ensuring the paint's performance and longevity.
Interior paint is designed for aesthetics and decoration, with low VOCs and stain-resistant properties, while exterior paint is formulated to withstand harsh weather conditions, UV radiation, and moisture.
The variation in pigments, resins, additives, and drying times sets these paints apart.
Using the appropriate paint type for each specific application will ensure a successful and long-lasting paint job.
FAQs:
Can I use interior paint for exterior surfaces?
No, using interior paint for exterior surfaces is not recommended as it lacks the necessary protection against weather elements and may fade or deteriorate quickly.
Is exterior paint safe for indoor use?
Using exterior paint indoors is not advised due to the higher level of VOCs and potentially harmful additives, which can lead to respiratory issues and pose health risks.
What are VOCs, and why are they important in paint?
VOCs (volatile organic compounds) are chemicals that can release harmful fumes into the air. They are important in paint formulations as they affect air quality, health, and the environment.
Can exterior paint be used on furniture or indoor decorative items?
Exterior paint is designed for outdoor use and may contain additives that are not suitable for indoor furniture or decorative items. It's best to use interior paint for such applications.
How can I choose the right paint color for my interior?
When choosing an interior paint color, consider the existing decor, lighting, and the mood you want to create in the space. Test paint samples on the wall to see how they look in different lighting conditions.
Can I use exterior paint in high-moisture areas like bathrooms?
No, exterior paint is not suitable for high-moisture areas like bathrooms. It's best to use specific moisture-resistant interior paints for such spaces.
What are the benefits of using water-based interior paint?
Water-based interior paint has low VOCs, dries faster, and is easier to clean up compared to oil-based paints. It is also more flexible and better suited for interior surfaces that expand and contract.
How often should I repaint the exterior of my building?
The frequency of repainting the exterior depends on various factors, such as climate, the quality of paint used, and the condition of the surface. Generally, exterior paint should be refreshed every 5-10 years.
Can I apply exterior paint over old interior paint?
It is not recommended to apply exterior paint over old interior paint, as it may not adhere properly and lead to premature peeling or flaking.
Should I consult professionals for my painting project?
Consulting professional painters like Bravo Painting is highly recommended, especially for complex projects. They can guide you in selecting the right paint, ensure proper application, and deliver a high-quality, long-lasting finish for your space.