Commercial Painting is definitely a niche topic that few people know about! We know it is a big job, and here at Bravo Painting Company, we want to make sure all of your questions are answered before we start the job, during the painting process, and after we complete the job.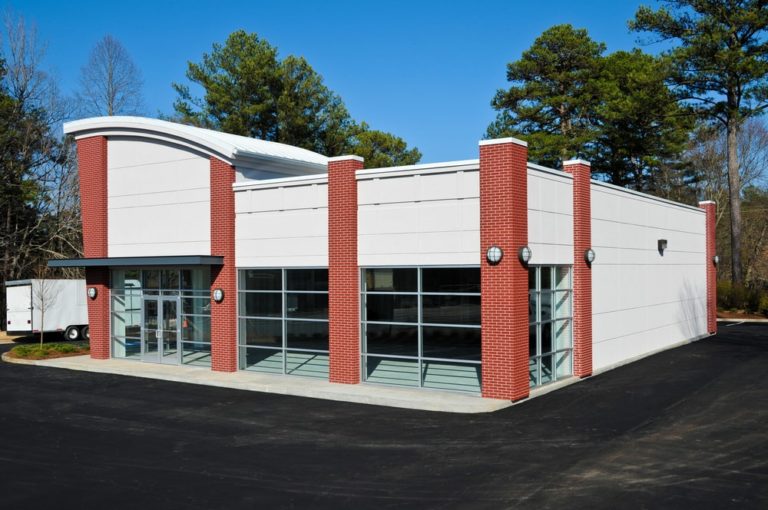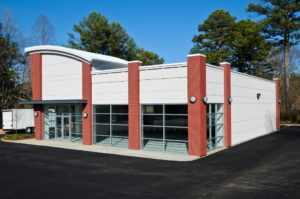 Commercial buildings come in all shapes and sizes, and they require different types of paint depending on their usage. In this blog post, we will answer some common questions about commercial painting. We do not want to leave you hanging with your questions unanswered. Here are some frequently asked questions -and helpful answers- about Commercial Painting.
What is Commercial Painting?
Commercial Painting is the painting of any building or structure that is not a stand-alone home. This means commercial buildings are warehouses, storefronts, worship complexes, government buildings, gyms, convention centers, and office buildings. Most of the buildings you see when driving around an urban or suburban area are commercial because that is the majority of people who go to work every day! Commercial buildings also include apartment complexes. This is tricky because apartment complexes can be seen as residential buildings, but they are also commercial buildings for our purposes since they are large. Painting commercial buildings is a large task requiring a lot of manpower and supplies! That is why Bravo Painting Company is perfect to help with all of your commercial painting FAQs and needs.
Why is Commercial Painting Hard to Do?
Commercial Painting has many different moving pieces. Depending on the size of the building and structures, it requires a large team of professional and skilled painters. Oftentimes, it requires scaffolding or electric lifts to get the painters high enough to the top of the building and structures. Of course, we have to get all of the supplies, which include paint, rollers, brushes, the metal to build scaffolding, and/or an electric lift. Of course, the more important piece of the puzzle when completing a large job like commercial painting is acquiring skilled and professional painters to do the job! Commercial Painting requires so many different pieces to finish the job on time and well. Here at Bravo Painting Company, we work for you, so we know how to get the job done right the first time and on time!
What Kind of Paint is Used for Commercial Buildings?
The type of paint used on commercial buildings will depend on the type of building, the climate in which it's located, and the desired aesthetic. Generally speaking, oil-based paints are most commonly used on metal surfaces while water-based paints are best for wood and masonry. Primers should be used before any top coats to ensure that maximum adhesion has been achieved.
What Skills Are Necessary for Commercial Painting?
Commercial painting requires a wide range of skills, including an understanding of different types of paints and primers, the ability to prep surfaces properly, knowledge of safety protocols, and an eye for detail. Other essential skills include basic carpentry, drywall repair, taping and patching walls, sanding surfaces, and color matching. Professional commercial painters typically have years of experience in the field along with specialized training.
Having the right commercial painting contractors on your team is key to achieving successful outcomes. If you're looking for expert help with painting your commercial building or facility, contact us today! Our experienced professionals can provide you with advice and guidance throughout the entire process.
What is the Difference Between Commercial and Industrial Painting?
Commercial painting typically deals with the exterior or interior wall surface of a building or structure, while industrial painting focuses more on machinery and equipment within a factory setting. Industrial materials require specialized coating techniques due to their higher durability demands compared to regular commercial coatings.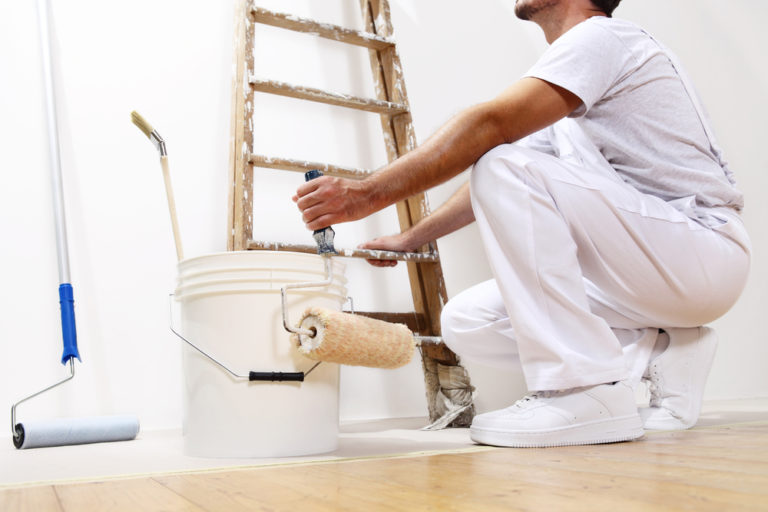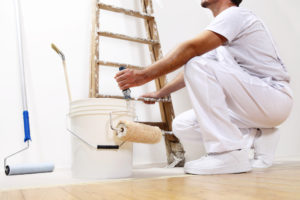 Is Commercial Painting More Expensive than Residential?
In short, commercial paint is more expensive than residential. However, you have to take into account the size of the project. Residential jobs are usually one house or maybe a few houses at the most. Commercial buildings and structures are way larger in surface area on the outside and, of course, way more to paint on the inside as well. Commercial painting has many more moving components to get the job finished in a timely manner, and commercial painting jobs require more supplies and painters in order to complete the job. All of these factors take into account our pricing for your commercial painting needs. So yes, commercial painting is more expensive than residential, but it all depends on the size of the buildings and structures that need to be painted.
Why Should I Get My Commercial Building Painted?
Commercial buildings are businesses that encourage customers and consumers to enter and buy products and goods. Your commercial building has to look good from the outside in order for customers to come into the building! It is all about curb appeal. It should be nicely painted, well lit, and have clear signage to avoid any confusion when customers are looking for your business. Commercial painting can absolutely enhance the outside of your building and show an inviting and welcoming space for future clients and customers. It is very important to take into account what first impression you are currently giving off and what first impression you want to have. Read more about protecting your commercial building from the harsh Georgia weather here. Repainting the exterior of your commercial building is an easy way to change the perspective of your business and invite customers inside.
Interior Painting for Commercial Buildings
When inside, it is easy for customers to be distracted. It is important that the interior of your business is not distracting from the goods and products you are selling. Neutral colors are always your best bet for interior colors as it does not take away from your products. The background that your products are against, whether hung up on the walls or on shelves, should only complement them, not take away from them in any way. Sticking with neutral colors for your commercial building's interior is an easy way to ensure your products are not overshadowed by their background. Not only should you focus on keeping customers and business flowing, but you have to remember your employees want a calm and welcoming space when they come to work as well. Employees appreciate a well-maintained building to work in and want their workspaces to be modern and clean. This starts with painting! Commercial painting on both the exterior and interior of your commercial building will help your business succeed by giving an inviting and welcoming space for customers.
How Often Should You Repaint a Commercial Building?
The frequency of repainting a commercial building will depend on several factors such as the climate, the type of paint used, and the level of exposure to the elements. Generally speaking, commercial buildings should be repainted every three to five years in order to keep them looking their best and protect against damage from weathering.
In Conclusion
Commercial Painting has many moving parts and components to make sure your commercial buildings are exactly how you want them to look and feel. There are many Commercial Painting FAQs and here at Bravo Painting Company want you to feel confident in our skills.
We hope this blog post has been helpful in understanding more about commercial painting. If you have any further questions or would like to schedule a consultation with our team, please don't hesitate to contact us today! We look forward to working with you! Contact us for a free estimate, and let's get your commercial building to top shape and achieve all of your goals for your business!