The exterior of your home is its first impression, the face it presents to the world.
Whether you want to enhance its curb appeal or protect it from the elements, hiring a professional exterior painting company is wise. 
In this article, we'll explore the world of exterior painting companies, their significance, and how they can transform your house into a stunning masterpiece.
The Importance of Professional Exterior Painting
Before we dive into the details of exterior painting companies, let's understand why professional painting services are essential for your home's exterior.
Curb Appeal
A freshly painted exterior significantly improves your home's curb appeal, making it more inviting and appealing to residents and guests.
Protection
Exterior paint enhances aesthetics and protects against weather, moisture, and other environmental factors.
Increased Property Value
A well-maintained exterior, thanks to professional painting, can increase your home's value, making it a sound investment.
Expertise
Professional painters have the expertise to prepare surfaces properly and apply paint evenly, ensuring a long-lasting and high-quality finish.
Choosing the Right Exterior Painting Company
Selecting the right exterior painting company is crucial for achieving the desired results. 
Here are some factors to consider:
Experience and Reputation
Look for a company with years of experience in exterior painting and a strong reputation for quality work.
Check online reviews and ask for references.
Services Offered
Ensure the company offers comprehensive services, including surface preparation, color consultation, and painting techniques.
Quality Materials
Ask about the types of paints and materials used.
Quality materials ensure the durability and longevity of the paint job.
Project Timelines
Inquire about the estimated timeline for your project.
A professional company should provide a clear schedule and stick to deadlines.
Licensing and Insurance
Confirm that the company is licensed and insured.
This protects you and the painters in case of accidents or unforeseen issues.
Benefits of Professional Exterior Painting
Let's explore the benefits of hiring a professional exterior painting company for your home:
Enhanced Curb Appeal
Professional painters can breathe new life into your home's exterior, giving it a fresh, appealing look that stands out in your neighborhood.
Weather Resistance
Exterior paint is designed to withstand the elements.
Professional application ensures your home is well-protected against rain, wind, and UV rays.
Cost-Effective
Investing in professional painting can save you money in the long run by reducing the need for frequent touch-ups and repairs.
Color Expertise
Professional painters can provide expert color advice, helping you choose the perfect hues that complement your home's style.
Conclusion
In conclusion, exterior painting companies are vital in revitalizing your home's appearance, protecting it from the elements, and increasing its value.
Professional exterior painting is the way to transform your house into a beautiful, well-maintained residence.
So, if you're ready to boost your home's curb appeal and protect its exterior for years, contact a reputable exterior painting company today and watch as they work their magic.
FAQs
Q1: How often should I repaint the exterior of my home?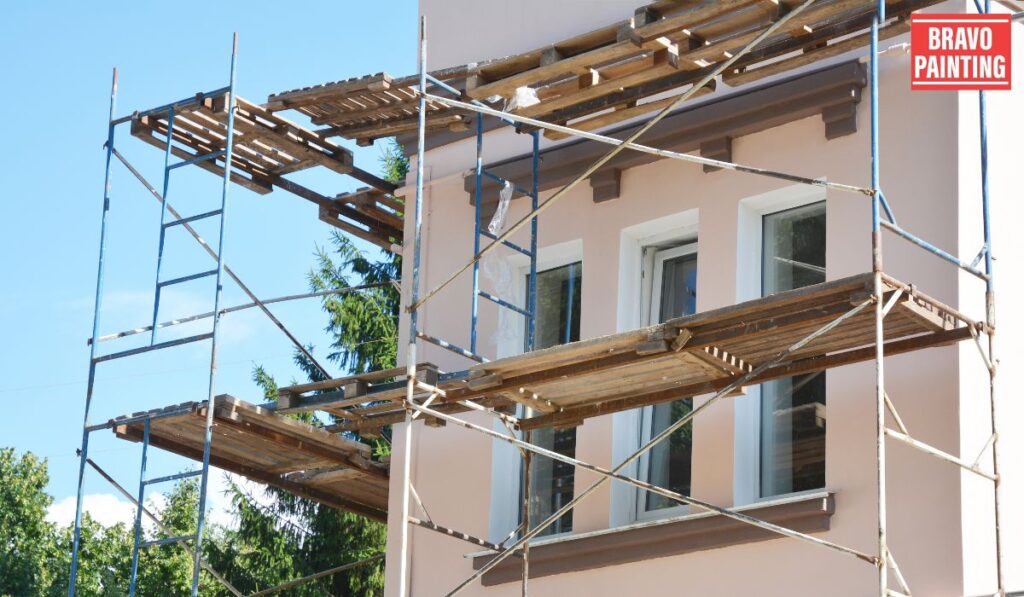 The frequency of repainting depends on various factors, including the type of paint used, weather conditions, and the quality of the previous paint job. A professional exterior painting company can provide recommendations based on your specific situation.
Q2: Can exterior painters repair damaged surfaces before painting?
Yes, many exterior painting companies offer surface preparation services, which may include repairing damaged areas, filling cracks, and ensuring a smooth and even surface for painting.
Q3: Is it possible to change the color of my home's exterior?
Absolutely! Professional exterior painters can help you choose a new color scheme to give your home a fresh look. They will also ensure proper surface preparation and application for a seamless finish.
Q4: Will the paint used by exterior painters withstand extreme weather conditions?
Professional exterior paints are designed to withstand various weather conditions, including rain, snow, and intense sunlight. They provide lasting protection for your home's exterior.
Q5: How can I request a quote from an exterior painting company?
To request a quote, contact the exterior painting company of your choice. They will typically schedule an on-site visit to assess your needs and provide you with a detailed quote based on your specific requirements.
Q6: Can I choose eco-friendly or low-VOC paints for my exterior painting project?
Yes, many exterior painting companies offer eco-friendly and low-VOC (volatile organic compound) paint options, which are environmentally friendly and safe for your home's exterior.
Q7: What is the typical warranty provided by exterior painting companies?
The warranty exterior painting companies offer can vary, but it often ranges from one to five years. Discuss warranty terms and coverage with the company before starting your project.
Q8: Will the exterior painting process disrupt my daily routine?
Professional exterior painting companies strive to minimize disruptions. They will work with you to create a schedule that ensures the most minor inconvenience to your daily routine.
Q9: Can exterior painters work during specific weather conditions, such as rain or extreme heat?
Exterior painters typically avoid working in adverse weather conditions, such as heavy rain or extreme heat. They schedule projects during favorable weather to ensure the best results and protect the paint job's integrity.
Q10: How can I maintain the freshly painted exterior of my home?
To maintain the appearance and longevity of your freshly painted exterior, it's essential to regularly inspect for any signs of wear or damage and address them promptly. Cleaning the surface periodically and avoiding harsh chemicals can also help preserve the paint's finish.