The appearance of your business premises plays a vital role in attracting customers, creating a positive impression, and maintaining a professional image.
This is where commercial painting companies come into play.
This article will explore the world of commercial painting companies, highlighting their significance and how they can transform your business space into a vibrant and inviting environment.
The Importance of Professional Commercial Painting
Before delving into the details of commercial painting companies, it's essential to understand why professional painting services are crucial for businesses.
First Impressions
Your business's exterior is the first thing customers see.
A well-maintained and freshly painted building creates a positive first impression.
Brand Representation
Colors and aesthetics reflect your brand identity.
Professional painters can ensure that your brand's colors are accurately represented.
Durability
Commercial spaces often face heavy foot traffic and wear.
Professional painting ensures that your surfaces are durable and long-lasting.
Compliance
Commercial buildings may have specific regulations regarding paint and coatings.
Professional painters are well-versed in compliance requirements.
Choosing the Right Commercial Painting Company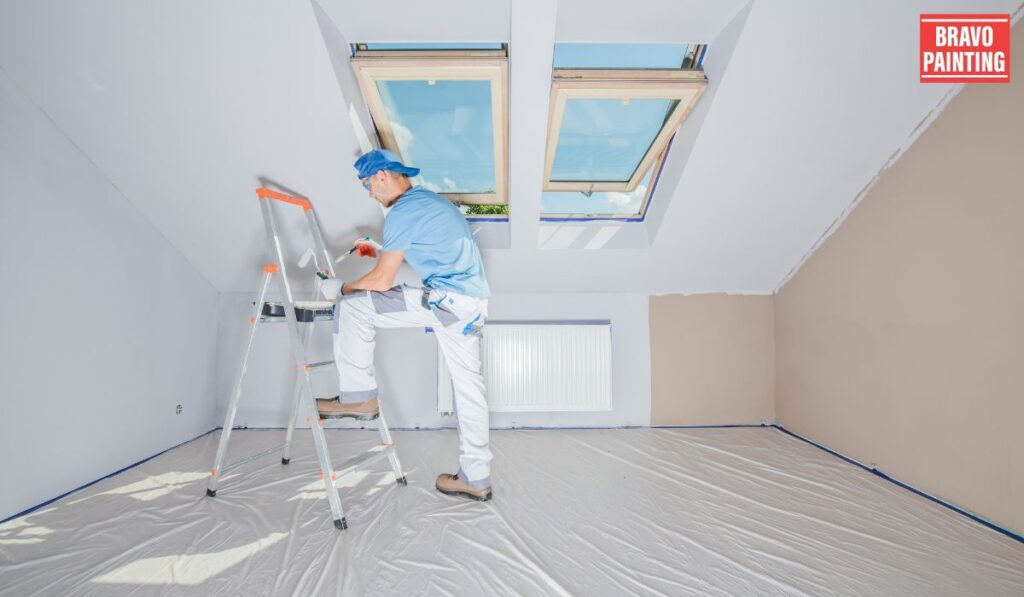 Choosing the right commercial painting company is essential when transforming your business space.
Here are some factors to consider:
Expertise and Experience
Look for a company with a proven track record in commercial painting.
Experience matters when dealing with the unique challenges of commercial properties.
Range of Services
Ensure the company offers comprehensive services, including interior and exterior painting, surface preparation, and coatings.
Quality Materials
Ask about the quality of paints and materials used.
Premium materials ensure a longer-lasting and vibrant finish.
Project Management
Effective project management is crucial for minimizing disruptions to your business operations.
Inquire about their scheduling and project timeline.
References and Reviews
Check references and read online reviews.
A reputable company will have a history of satisfied clients.
Benefits of Professional Commercial Painting
Let's explore the benefits of hiring a professional commercial painting company for your business:
Improved Aesthetics
Professional painters can transform your space, enhancing its aesthetics and making it more appealing to customers and employees.
Enhanced Productivity
A fresh and inviting workspace can boost employee morale and productivity, leading to a more positive work environment.
Cost-Effective
Professional painting is a cost-effective investment.
It protects your property, reducing the need for frequent touch-ups and repairs.
Compliance and Safety
Experienced painters understand and adhere to safety regulations, ensuring a safe working environment during the painting process.
Conclusion
In conclusion, commercial painting companies play a crucial role in enhancing business spaces' appearance, brand representation, and overall functionality.
Investing in professional painting services is a smart choice for businesses looking to make a lasting impression and create a positive atmosphere for customers and employees.
So, if you're ready to transform your commercial space into a masterpiece, contact a reputable commercial painting company today and witness the difference they can make.
FAQs
Q1: How often should I repaint my commercial building?
The frequency of repainting depends on several factors, including weather conditions and the quality of the previous paint job. A professional commercial painting company can assess your specific needs.
Q2: Can commercial painters work outside regular business hours to minimize disruption?
Yes, many commercial painting companies offer flexible scheduling and can work during non-business hours to minimize disruptions to your operations.
Q3: Do I need to close my business during the painting process?
You can keep your business open during the painting process. Experienced commercial painters will take steps to ensure a safe and minimally disruptive work environment.
Q4: What is the typical timeline for a commercial painting project?
The timeline varies depending on the size and scope of the project. A commercial painting company will provide an estimated timeline during the consultation.
Q5: Are there eco-friendly paint options for commercial properties?
Yes, many commercial painting companies offer eco-friendly and low-VOC paint options that are environmentally friendly and safe for indoor air quality.
Q6: Can a commercial painting company help with color selection for my business?
Yes, professional commercial painters often provide color consultation services to help you choose the right colors that align with your brand and vision.
Q7: What steps should I take to prepare my commercial space for painting?
A reputable commercial painting company will guide you through the preparation process. Still, generally, it involves clearing the workspace, covering furniture and fixtures, and addressing any necessary repairs or surface preparations.
Q8: Are commercial painting services insured, and what does this mean for me?
Most commercial painting companies carry insurance to protect both themselves and their clients. This insurance can provide peace of mind, as it ensures that any unforeseen accidents or damages during the painting process are covered.
Q9: Can a commercial painting company meet specific design or logo requirements?
Commercial painters can work with specific design elements, including logos and branding. They can accurately replicate your design to maintain brand consistency.
Q10: How can I get a quote for my commercial painting project?
To get a quote for your commercial painting project, reach out to the commercial painting company you're interested in working with. They will typically schedule an on-site consultation to assess your needs and provide a detailed quote based on your requirements.