When it comes to fencing, there are a few different finishes to choose from: paint, stain, or no treatment at all. Each option has its own benefits and drawbacks. So how do you know which one is right for your fence?
In this blog post, we'll discuss the pros and cons of each treatment so that you can make the best decision for your home.
What are the benefits of painting versus staining your fence?
Painting or staining your fence can offer different levels of protection from the elements. Maintaining your fence with either paint or stain will give you years of life.
Leaving your fence untreated will open it up to pests like termites, moisture, and UV exposure. Water can cause dry rot and mold, and sunlight can dry out the wood causing it to splinter.
Painting your fence will act as a barrier against moisture, sunlight, and pests. However, paint can chip and fade over time, requiring more frequent treatment.
If you stain your fence, it will still protect against moisture and sunlight. However, it will not provide the same level of protection against pests. In addition, staining can help to highlight the natural grain of the wood and give the fence a more finished look.
If your older fence is faded or has paint that is chipping, it will decrease the overall curb appeal and value of your home. If you are planning to sell your home, a freshly painted fence gives a clean look to the home. Well-maintained fencing will help draw the buyer in with the expectation that the home is also well maintained.
Ultimately, your best choice will depend on your specific needs and preferences. The pros at Bravo Painting can help to discuss your individual needs.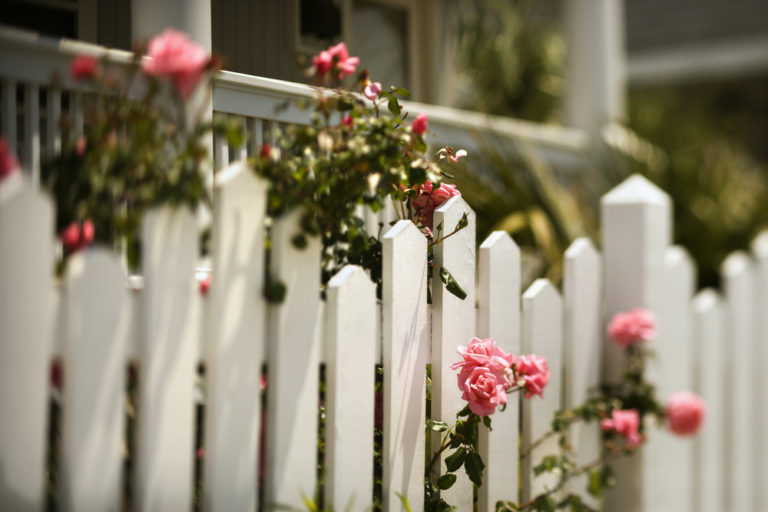 How do you decide which option is best for your home and budget?
When it comes to choosing between painting or staining your fence, there are a few things to consider.
First, what is the condition of the fence? Staining may be the better option if the wood is in good condition because it will help protect the wood and extend its lifespan. If the wood is damaged or rotting, painting may be a better option because it will provide a fresh surface.
Second, what is your budget? Staining can be more expensive than painting, but it typically lasts longer. The average cost for staining a fence is $8.25 – $14.00 per linear foot. The average cost to paint a fence is $3.50 to 7.50 per linear foot. Keep in mind, though, that prices vary depending on location, the skill of the painter, the fence material, and the condition.
Third, what is your desired look? Stain can give the wood a natural look, while paint can provide a pop of color. Ultimately, your best option will depend on your specific circumstances and style preferences.
Is it easy to DIY a project to paint or stain a fence?
Nearly anyone can tackle a DIY fence stain or paint project but keep in mind it comes with a lot of hard work and elbow grease. The project is relatively inexpensive, with paint or stain being the most expensive part. However, the cost can add up if you have to purchase tools. Not to mention your time! To do this project yourself, you will need the following tools:
Good quality paint brush, but avoid chip brushes because they shed and leave streaks
Good quality roller because cheap rollers will leave lint in the paint
Cup or container to hold paint
Roller tray
Tarps to protect the pavement
Sandpaper of various grits
Wire brush to knock off chipped paint
Power washer (this can be rented, usually $45 per day at the home improvement store)
Outdoor primer if painting on bare wood
Outdoor paint or stain
The project itself is simple but will require a lot of work and preparation. First, you must power wash the fence to remove dirt, mold, and loose paint. Once the fence has dried overnight, you can begin the prep work. You must remove all loose and chipping paint if the fence was previously painted. Leaving any loose paint on the fence won't allow the paint to adhere properly.
If you are wanting to stain a previously painted fence, you will need to remove all paint with a paint stripper or by sanding. After doing any sanding, you will need to rinse the sanding dust off with a hose and allow the fence to dry overnight. Sanding dust, even a little bit that is left on the wood, will not allow the paint or stain to adhere properly and will look patchy.
After all that prep work, you are now ready to paint or stain your fence. Continue reading to find out what paint or stain you should use and how to paint your fence properly.
What kind of paint or stain should you use on your fence?
When it comes to choosing a paint or stain for your fence, there are a few things to keep in mind. First, consider the material of your fence. If it's made of wood, you'll want to choose a product that's specifically designed for wood.
Second, think about the color you want. If you want something that will stand out, go for a bright hue. If you prefer a more subdued look, opt for a neutral shade.
Finally, make sure to read the labels carefully before making your purchase. Some products are incompatible with certain types of finishes, so choosing one that will work well with your fence is essential.
High-quality paint or stain will be a better investment in the long run. As professionals, we recommend using Behr or Sherwin-Williams products due to their quality and longevity. With a little research, you're sure to find the perfect paint or stain for your needs.
What's the process like to paint or stain a fence yourself?
When you're painting or staining your fence, the first thing you need to do is prepare the surface. This means making sure the fence is clean and completely dry. It also means sanding down any rough spots or loose paint so that the paint or stain will have a smooth surface to adhere to. Don't forget to remove any old nails or screws that are sticking out.
Once the fence is prepped, you can start painting or staining. If you are going to paint your fence, it is best to prime it first and allow it to dry per the manufacturer's label. Not only will primer provide a better, more even finish, but it will also help the paint last longer.
For the best results, make sure to apply the paint or stain evenly and in long strokes. Not only do you want to apply paint or stain evenly, but you also want to use light layers. The finish will look better and last longer with multiple light layers rather than one or two heavy, thick layers.
Some areas of the fence will require a paintbrush, whereas other areas can be done with a roller. A brush is ideal for small sections, like a post or rail. A roller works best on pickets. A small 4-inch roller is great for small areas, and a large 9-inch roller is good for the rest. If you're using a brush, make sure to put down a drop cloth or tarp first. If you're using a roller, you can probably skip this step.
If using a roller, you must pay attention to the nap. If your wood fence has a rough surface, you will want to use a larger-sized nap than if your fence has a smooth finish. The bigger nap will lay down more paint, which is needed when the surface has a lot of texture or grooves.
Once you're finished painting or staining, let the fence dry completely before putting anything back against it or hanging anything from it. With a little elbow grease and attention to detail, you'll have a beautiful and well-protected fence in no time. However, if you find your project is too much for you or you are on a tight schedule, Bravo Painting can complete the project for you!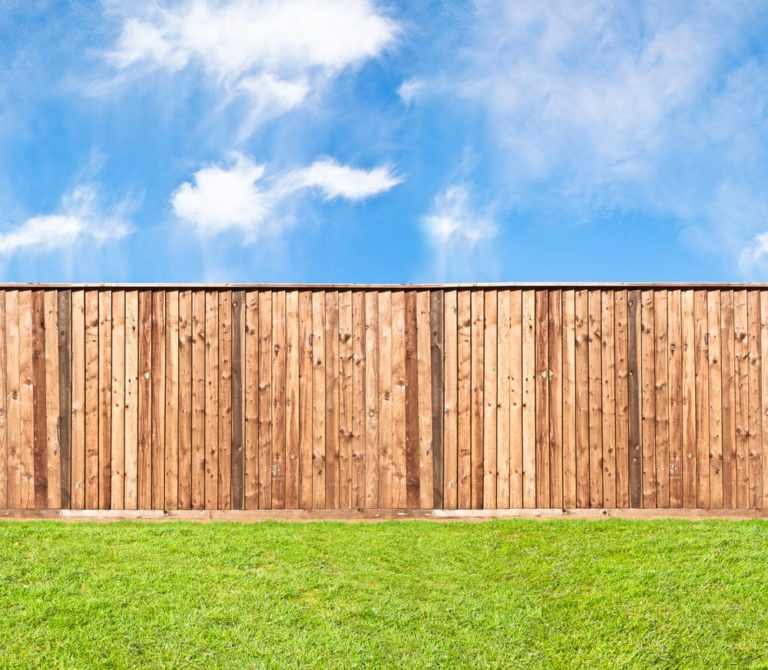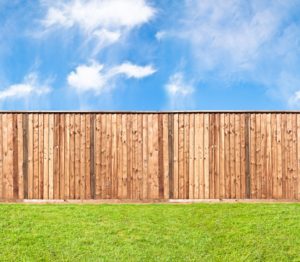 Are there any potential problems that could arise when painting or staining a fence, and how can you avoid them?
When it comes to painting or staining a fence, a few potential problems could arise. A common one is that the paint or stain could run off in the rain and end up on your house or sidewalk. Another common one is that sunlight could cause the paint or stain to fade over time. Finally, a common problem with painting is that you could end up with streaks or brush marks in the finish if you are not careful.
To avoid these problems, be sure to choose a quality paint or stain and follow the manufacturer's instructions carefully. Also, make sure you won't have any rain for the time it will take to paint or stain plus the dry time listed on the product.
The weather may be the biggest factor when planning an outdoor painting or staining project. The ideal temperature to paint or stain is between 60° to around 85°F with little to no wind. Humidity should be between 40% to 70% to ensure it will dry properly. More than a light breeze will cause paint to dry too fast, leaving unsightly streaks in the finish. Ideally, the nighttime temperature should not dip below 34°F for the first few nights to allow for proper curing.
Also, make sure to apply a primer before painting and allow it to dry completely before painting your top coat. Be sure to allow plenty of time for the fence to dry thoroughly before putting it back up or attaching anything to it. Taking these precautions can help ensure that your fence looks great for years to come.
Which option do most homeowners choose in the end, and why?
In the end, most homeowners choose to paint or stain their fence rather than leaving it bare and exposed to the elements. This is because it is a cheaper and easier option to finish it than replacing the fence. Fresh paint or stain can also help boost the value and curb appeal of the home.
Painting or staining is a good way to protect the fence from weather damage and extend its lifespan. Keep in mind, though, that both finishes require some maintenance, which may need to be done every few years.
Why should you trust the pros to paint or stain your fence?
Using a professional to paint or stain your fence takes all the guesswork out of your project. A professional not only knows what products to use but will also know how to prep the surface correctly and how to get the best finish.
Hiring a professional painter in Georgia will save you time, energy, frustration, and your back too! Most importantly, by using a professional, you get peace of mind that your project is done right, on time, and will look great.
Getting started on your paint or stain fence job with the pros
Ultimately, the decision of whether to paint or stain a fence is up to the homeowner. If you're still unsure about your best option, our experts can assist you in your decision.
The first step to working with us is to schedule a free estimate. Our experts will take into account your budget, needs, and preferences when helping you decide which method is best for your fence.
Once you've decided on your fence finish, we will take care of the rest! We will work with you to schedule the project, complete the project, and clean up. Give us a call today to discuss your options with one of our experts and schedule a free estimate.