Homeowners and business owners alike can reap the benefits of exterior painting. Not only does a fresh coat of paint improve curb appeal, but it can also increase the value of your home or business.
When selecting colors, be sure to choose those that will add the most value to your property. For instance, light colors are known to make rooms look more spacious, while dark colors can make a room feel cozier. As you consider which colors will best suit your home or business, keep in mind that adding value is not just about aesthetics—it's also about functionality. For example, if you live in an area with high humidity, choosing a paint that is mold-resistant will be beneficial in the long run.
Keep these tips in mind as you select the right paint for your next exterior painting project! You could see a significant return on investment (ROI) by simply freshening up your home or business with a new coat of paint. Contact Bravo Painting Company today for all your exterior painting needs! We would be happy to help you achieve the results you desire.
Why painting your home's exterior is important
Painting your home's exterior is a great way to improve the look and value of your property. Not only can you choose the perfect color to give your house a refreshed and modern look, but investing in new paint is an excellent way to increase the ROI when you decide to put it back on the market.
It may surprise you, but certain colors, when used on the outside of your home, are proven to add more financial value compared to other colors! Taking the time to make informed decisions about what shades of paints can return good returns can be well worth it. Painting your home's exterior will allow you not only to improve its appearance but also to make sure that it stands out from other places in the neighborhood.
How painting can boost your home's value
Exterior painting can be a great cost-effective way to boost your home's value and make it stand out from the crowd. According to a HomeLight 2022 Top Agents Insight report, a fresh coat of paint is estimated to increase the release value of your home by $7,571. Even more than the financial ROI on a new paint job, you'll get satisfaction from knowing that you made an improvement that increases curb appeal and revitalizes the appearance of your home.
As far as colors that can add even more value, neutral shades are always a safe bet. Bright blues and greens also look great but consider what potential buyers may appreciate in terms of color. Whatever color you choose, Bravo Painting Company has experienced professionals ready to provide you top quality service so that you can see the highest return on your investment!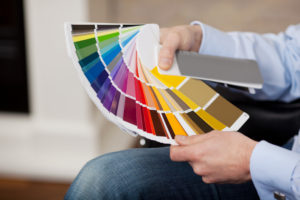 The best colors to add value to your home
Repainting the exterior of your home is one of the most effective ways to add value to a property, and choosing just the right color can be a crucial part of getting the best ROI. Neutral tones, such as whites and grays, tend to attract more buyers with their versatility and broad appeal – but don't be afraid to make a statement!
Pop colors, like bright blues or yellows, can add cheerful charm while helping your home stand out in a competitive market. If you'd rather stay traditional for your neighborhood, shades of cream or taupe provide timeless elegance that won't let you down. No matter which hue you choose, Bravo Painting Company will help you skillfully make it look amazing.
How much can you expect to spend on exterior painting?
For many people, one of the biggest questions when it comes to exterior painting is how much it will cost. The reality is there are a variety of factors that can impact the overall cost of the project, including size and complexity, paint brand and quality, labor costs, and whether special features, like adding an accent color, are requested.
Most projects range from $2-$5 per square foot, with some larger projects on the higher end of pricing. However, one of the great benefits of investing in exterior painting is that you see a good return on your investment in increased home value. In addition to generally having an excellent ROI rate so you get out what you put in financially, painting your home will also add curb appeal that contributes further to property value.
When choosing colors for painting your home, muted hues tend to bring out the best aesthetic results as well as command higher property values than those in bold shades, which could potentially detract from its sheer value. Ultimately deciding how much money to invest can be influenced by a number of factors, and managing your expectations while researching what is available it essential before beginning any project.
How to choose a reputable exterior painting company
When choosing a reputable exterior painting company, there are a few important factors to consider. First, look for an established company with the necessary credentials. Ensure the company you select has good reviews and customer feedback.
Second, evaluate their level of expertise in exterior painting – look into their portfolio and previous experience. Perhaps even ask for references from prior clients. Finally, determine if they use top-of-the-line paint and the latest techniques to give the job a professional finish that lasts. Bravo Painting Company is known for utilizing only quality products and hiring experienced professionals who take pride in their workmanship – so why not give them a call today?
A fresh coat of paint is one of the most cost-effective ways to increase your home's value. By choosing colors that will appeal to the majority of buyers, you can give your home a curb appeal makeover that will make it stand out from the competition and help you get top dollar when it comes time to sell.
When selecting an exterior painting company, be sure to choose one with a good reputation for quality workmanship and customer service. And don't forget, we here at Bravo Painting Company specialize in exterior painting and would be more than happy to help you boost your home's value!