People often overlook the option of painting exterior window trim for a quick and effortless makeover for their home or business.
However, there are numerous creative possibilities to explore!
Whether you want to paint over plain white window frames or add character with unique color choices and designs, Bravo Painting Company has you covered.
Draw inspiration from our expert painters who have gathered a collection of tips and ideas for painting exterior window trim, honed through years of experience in the industry!
Learn more about what materials to use, how to pick the right colors, and even some tricks on getting realistic wood grain finishes – all without breaking the bank.
So let's take a look at what's out there and help bring that extra bit of something special to your windows today!
All About Exterior Window Trim Painting
Did you know painting exterior window trim has a detailed history?
Once an integral part of traditional homes, painting exterior window trim continues to be a popular choice for both new and historic homes.
Not only is painting a way to enhance the aesthetic of your home, but it's also an effective (and much less expensive) way to protect and preserve wood from difficult weather conditions.
Painting creates a barrier, sealing wood against water, air, and other harsh elements.
A quality job results in a longer-lasting paint finish, which will save homeowners time and money down the road.
At Bravo Painting Company, we understand that painting requires special attention and expert skill – so let us take care of your painting needs.
Why is it Important to Paint the Exterior Trim of Your Windows?
Painting your window trim is an important part of maintaining a safe, secure, and visually appealing home.
Exterior painting will protect the wood from rot and other weather-related effects that could damage or warp it.
Furthermore, painting your windows adds charm to the exterior of your house by adding color and texture, making it look more vibrant and well taken care of.
Not only this, but painting the trim prevents moisture buildup near your window frames, decreasing the risk of mold growth caused by condensation.
All in all, painting your window trim will not only improve the aesthetic of your house but also provide structural protection to ensure that its longevity remains intact.
How to Choose the Right Paint for Window Trim?
Choosing the right type of paint for painting your exterior window trim can be a difficult decision.
After all, you're painting one of the most visible parts of your home, and it needs to look good and withstand elements of weather.
With so many options available, it can be hard to know which paint to choose!
Fortunately, by weighing a few factors like intended use, water resistance, and product confidence ratings, you can find the right coating for painting exterior window trim.
To start off your painting journey, first, decide what purpose or finish you want to achieve from the painting job – this may depend on environmental conditions such as temperature or exposure to UV Rays.
Then look for coatings that have high ratings for water resistance.
Make sure the manufacturer provides reliable confidence ratings for their paint products too.
If you're still unsure about which type of painting solution is best for your window trim project, reach out to Bravo Painting Company for professional advice!
We will help make sure your windows look beautiful no matter what paint you choose.
Choosing the Best Paint Color for Your Home's Trim
Is painting your home's trim next on your to-do list? Getting the right paint color for your trim can be tricky.
Consider factors like what decorative scheme you have in mind, what surrounding colors your windows are, and whether a bright or subdued palette would suit your taste.
When planning a painting project, it is vital to consider the location and understand the climatic conditions that may impact the durability of the paint.
To fully grasp the significance of the specific material being painted, it is vital to recognize that painting projects exhibit considerable variations in terms of approach and requirements.
For instance, painting exterior windows in windy areas requires applying additional layers of sealant between painting sessions to ensure that the colors stay vibrant and won't soon wear off due to harsh weather.
To make sure that you're choosing a paint color for your home's trim that is just right for you and will hold up against all types of conditions, think about asking your painting contractor for advice prior to making a commitment.
Tips for Painting Window Trim Like a Pro
Painting window trim is a great way to upgrade your look and bring out the best in your windows.
But certain techniques will help you achieve truly professional results.
To give your window trim that polished, pro-finish, start by sanding away any blemishes or old paint; this creates an even surface for the new paint to stick to.
When you're ready to prime, use one coat of high-quality primer and let it dry thoroughly before beginning your painting project.
Make sure to choose a durable exterior paint, preferably with added waterproofing capabilities, and use multiple coats with at least 12 hours of drying time between each layer.
A good outline will also make all the difference; trace along window edges with painter's tape, so lines stay crisp and sharp while adding that extra touch of finesse.
Bravo Painting Company knows the secrets behind creating perfect window trim in any style!
Maintaining Your Newly Painted Trim
Window trim is an important detail in completing a finished, high-quality look for your home.
Fortunately, there are simple steps to be taken to maintain the exterior window trim and keep it looking freshly painted.
A good place to start is regularly cleaning off dirt, pollution, and other elements from the walls around your windows with a clean, damp cloth.
Additionally, you can use spray paint or even touch-up pens if any of your window trim becomes scratched or marked over time – just make sure that whatever product you choose is waterproof and fade-resistant.
Finally, maintaining the sealant between your trim pieces will help prevent water seepage; examine your window frames routinely to allow for timely repair of any potential issues.
We here at Bravo Painting Company hope these tips have helped you make sense of maintenance for exterior window trim so you can enjoy its beauty with confidence!
Takeaways
Painting exterior window trim is an important task that shouldn't be rushed or taken lightly.
Doing so can keep your home looking beautiful and new.
By doing research, selecting the right paint, hiring a professional painter, and following up regularly, you can ensure your window trim will last for years to come.
Ultimately, you'll want to find the best trim color that showcases your windows in whatever style you'd like- classic, modern, or bold!
If you are unsure of which one fits better with your house's exterior look — why not try out an online tool?
That way, you can visualize the potential outcome before taking on a painting project.
Lastly, if this all seems too intimidating it is worth investing in a professional who is experienced and trustworthy when it comes to painting windows.
Bravo Paint Company has experienced and vetted tradesmen who can take on any exterior painting job, from small touch-ups to big projects.
Contact Bravo Paint Company for a free painting estimate today and make sure your home stays as beautiful as ever!
FAQs
Painting your exterior window trim can be a daunting task for anyone.
Gaining a comprehensive understanding of the process, materials, and tools necessary is crucial to ensure the successful completion of the painting project. At Bravo Painting Company, we have a wealth of knowledge and years of experience with outdoor carpentry and painting that we want to share with you!
Whether you decide to undertake this project yourself or utilize our services, we have compiled a list of frequently asked questions about painting exterior window trim to provide you with valuable information and guidance. We hope they help simplify the task and make it more enjoyable for you!
What is the best way to paint exterior window trim?
The best way to paint exterior window trim is to begin by cleaning the trim with a mild detergent and water solution, followed by rinsing it off with a hose or garden sprayer. After thoroughly cleaning and ensuring that the trim is completely dry, the next step is to apply an exterior primer specifically formulated for wood or metal surfaces.
Once the primer has dried, proceed by applying multiple coats of premium exterior paint or stain to achieve the desired finish and durability. Make sure to allow ample time for the paint or stain to dry completely between each coat. Finally, finish the job by applying one last coat of sealant or varnish (if desired) to protect your trim from moisture and the elements.
What type of paint should be used for exterior window trim?
For the exterior window trim, opt for paint specifically designed for outdoor surfaces like wood or metal. Using such paint ensures optimal performance and durability against outdoor elements. Specifically, look for an oil-based exterior primer and a high-quality acrylic latex enamel paint. Both products should have an exterior use rating and offer maximum protection against the elements. Additionally, considering the application of a sealant or varnish after painting can provide further protection to the trim, safeguarding it from moisture and potential damage.
Do I need to sand the exterior window trim before painting?
Yes, it is always recommended to sand any exterior wood or metal surfaces before applying a primer or paint. This helps remove any dirt, dust, or other particles that may be on the surface and will also create a smoother finish after painting. Use fine-grit sandpaper to lightly sand the window trim before beginning your paint job.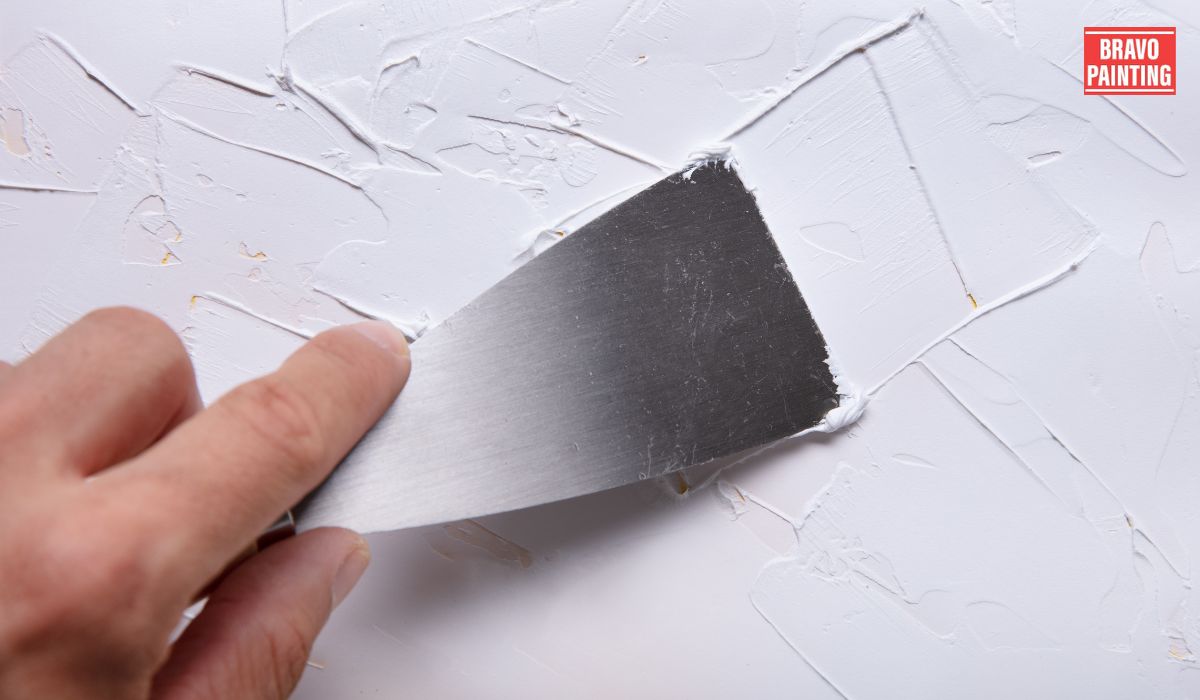 It is generally recommended to apply two to three coats of paint or stain to the exterior window trim. For best results, allow ample time for each coat to dry before applying the next one. Depending on the type of paint and/or sealant being used, you may need more than three coats for optimal protection from weather and moisture damage.
It is also important to note that you should never paint over peeling or flaking paint. Instead, use a wire brush and/or sandpaper to remove any loose material before proceeding with the painting process.
Should the exterior trim be a flat or satin paint finish?
The type of finish you choose for your exterior window trim is entirely up to personal preference. A satin finish will give windows a more polished look, while a flat finish offers a more muted appearance. Either option will work, but if the trim is exposed to moisture or direct sunlight, it is recommended to use paint with a satin or semi-gloss finish, as they are more resistant to fading and water damage.
Should exterior trim be lighter or darker than the house color?
When it comes to the color of your exterior window trim, lighter shades tend to work best. This helps provide contrast between the house and the trim while also making the windows stand out. If you decide on a darker shade, be aware that it may make your windows look smaller than they are.
Start Your Window Trim Paint Project Today!
Are you looking to add a touch of beauty and charm to your home's exterior? Painting your window trim is the perfect way to achieve that extra bit of flair! Not only will painting your window trim give your house an extra "pop," but it will also protect it from moisture and dirt buildup.
At Bravo Painting Company, we make painting your exterior window trim easy! We have experienced painting technicians who can get the job done quickly and beautifully. Don't wait any longer – start your painting project today with Bravo Painting Company!
Why You Should Hire a Professional to Paint Exterior Window Trim
Hiring a professional painter for your exterior window trim can make an enormous difference in the aesthetic of your home or commercial property. DIY projects may not always produce great results, especially on something as important to the overall look of a building as window trim. A professional painter will understand the importance of details and use specialized tools and techniques to achieve superior results.
They also have access to high-quality paints and finishes specifically made for outdoor surfaces, whereas when you do it yourself, you may need to settle for inferior products without realizing it. Finally, with a professional painting company, your job will be done quicker and more efficiently than if you did it yourself – leaving more time for enjoying the end result!