Exterior paint is your home's first line of defense against rain, shine, and everything in between. For this reason, paint matters! Repainting the exterior of your home ensures a new buyer or homeowner peace of mind for the first few years in their new home. Repainting your home's exterior increases the value of your home by improving the curb appeal, matching the neighborhood's scenery and aesthetic, and giving the appeal of a new or nicely maintained home.
Curb Appeal
The look of the exterior of your home makes a huge difference in the value of your home. It allows prospective buyers and new owners to see themselves in this home without needing to complete renovations or upgrades to the exterior. Not only does repainting the exterior show the high level of care and maintenance to the home, but it also makes the house look newer as well.
Colors certainly impact peoples' decisions making! Here at Bravo Painting, we help you determine which color would work in your neighborhood and which paints would look best on your home. You need a paint color that is inviting and welcoming to potential buyers. It should be a color that is calm and neutral, which makes it look more modern and clean. A buyer wants to envision themselves in the home, therefore, repainting the home's exterior adds value and increases the likelihood of selling.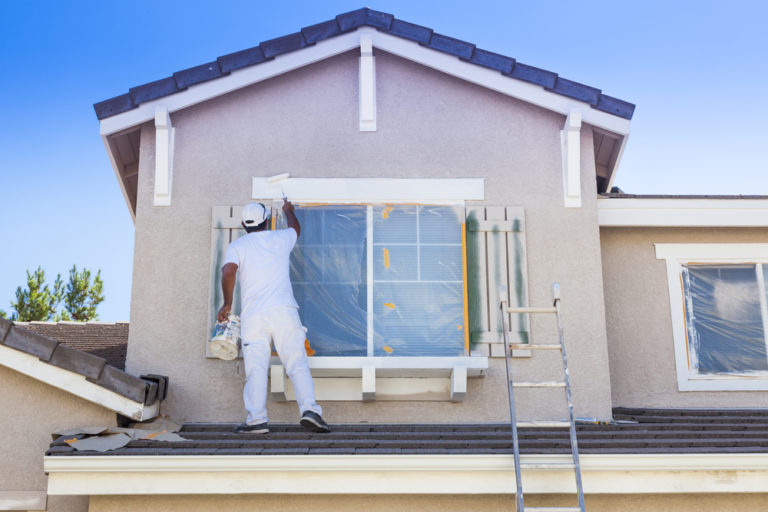 Blending In With Your Neighbors
It is very important to pick the right color when repainting your home's exterior. It is always safe to stick with neutral colors. Neutral colors are always in style and up with the trends. Repainting the exterior of your house in a neutral color adds value to your home because the new buyers will not need to repaint it for a while. Having a "move-in ready" home that does not need renovations for a few years after moving in is highly valuable and sought out by potential buyers.
To increase your home's value, you do not want your house to stick out like a sore thumb! While you can always add character with a pop of color in the front door or garage door, it is crucial to keep your house in line with the whole neighborhood's aesthetic. Make sure to check in with your local homeowners' association to see what their requirements are for the color of your home! Bold colors are definitely a fun addition to your house, but it is important to remember that these bright and vibrant colors are personalized. Repainting the exterior of your home to match the neighborhood is certain to increase the value of your home. Read more about which exterior paint colors are popular in Atlanta right now!
Showing a New or Nicely Maintained Home
Due to the rising prices of goods and labor needed to complete renovations and upgrades in houses right now, buyers and new homeowners are looking for the complete package. Most potential buyers and homeowners are not looking to gut and remodel homes anymore. Now more than ever, these buyers are looking for a fully done and ready house to move into immediately. Gone are the days of people buying fixer-uppers, as most end up going over budget anyways! Repainting the exterior of your home can really bump up the looks and show that this house has been taken care of well. Of course, repainting the interior of your home gives an added level of depth when showing your home. The smell of freshly painted walls can show the new buyers that the house is updated and that they do not have to worry about painting upon moving in. While this may not seem like a huge deal, these small touches easily add up for potential buyers, so it really does make a difference! Repainting the exterior of your home gives the initial first impression, which goes a long way. You want potential buyers to be satisfied and like what they see the second they pull up in their car. They are already happy with the exterior curb appeal that when they step inside and see the gorgeous home's interior, it brings a signed and sealed deal!
Conclusion
While it may seem like a big task to figure out which color is right for you and how to get the process of repainting your home's exterior in motion, Bravo Painting is here to help. We help you with every step of the process, including giving you a free estimate, helping to choose the perfect color for your home, getting a crew out to your house in a timely fashion, and getting the job done right on time! We want to make sure you are satisfied with all of your painting needs. Repainting the exterior of your home seems like a daunting task, but with Bravo Painting, we make it simple. Contact us today to get a free quote and start the process of increasing your home's value.