When it comes to enhancing the curb appeal and value of your home, repainting the exterior is a simple yet effective strategy that often goes overlooked.
The exterior of your home is the first thing people notice, and a fresh coat of paint can breathe new life into its appearance.
In this article, we will delve into the reasons why repainting your home's exterior is a smart investment that can yield substantial returns.
The Impact of Curb Appeal
Making a Positive First Impression
They say first impressions matter, and this couldn't be truer for your home.
A well-maintained exterior with a fresh coat of paint can create a positive impression on potential buyers, neighbors, and even guests.
It gives the impression that the property is cared for and well-maintained, setting the stage for a positive viewing experience.
Protecting Against the Elements
Shielding Your Home from Weather Damage
Exterior paint does more than just look good – it provides a protective barrier against the elements.
Rain, wind, sun, and snow can all take a toll on your home's exterior surfaces. 
A high-quality paint job helps prevent moisture from seeping into the walls, which can lead to rot, mold, and structural issues.
Keeping Up with Trends
Modernizing Your Home's Aesthetic
Home design trends evolve over time, and an outdated exterior can make your property look less appealing.
Repainting your home allows you to incorporate contemporary color schemes and design elements, giving it a more modern and relevant appearance.
Increasing Property Value
A High ROI Home Improvement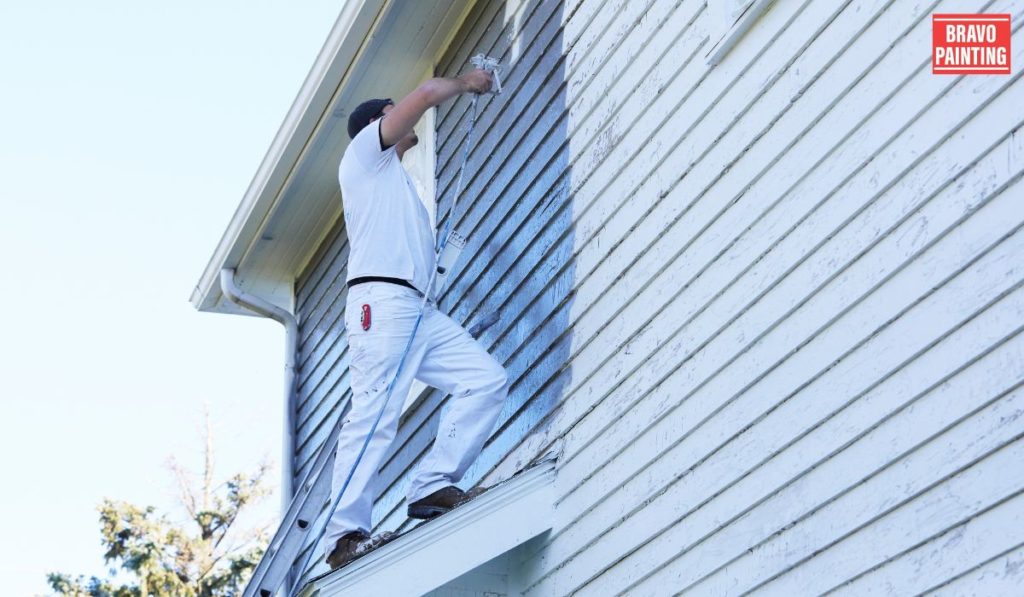 Repainting your home's exterior is a cost-effective home improvement project with a high return on investment.
Real estate experts suggest that a well-executed paint job can increase the perceived value of your property by several thousand dollars.
This increase in value can far outweigh the relatively modest cost of the paint job itself.
Boosting Buyer Interest
Attracting Potential Buyers
In a competitive real estate market, every little detail can make a difference in attracting potential buyers.
A freshly painted exterior can be a major selling point, capturing the interest of house hunters who are looking for a property that's move-in ready and visually appealing.
DIY vs. Professional Painting
The Importance of Quality
While some homeowners might consider a DIY paint job to save money, professional painting services offer distinct advantages.
Professional painters have the expertise to prepare surfaces properly, choose the right type of paint, and apply it evenly for a smooth and long-lasting finish.
Choosing the Right Colors
Enhancing Aesthetics and Appeal
Picking the right colors for your home's exterior is a crucial decision.
The color scheme should complement the architectural style of your home and blend harmoniously with the surrounding environment.
It's a balance between personal preference and what will appeal to a broader audience.
The Process of Repainting
Steps to a Stunning Exterior
The process of repainting your home's exterior involves several steps, from cleaning and preparing the surfaces to applying primer and multiple coats of paint. 
Each step plays a vital role in achieving a professional and durable finish that will stand the test of time.
Environmental Considerations
Eco-Friendly Paint Options
As environmental awareness grows, so does the demand for eco-friendly products.
Fortunately, there are now paint options available that are low in volatile organic compounds (VOCs), reducing the impact on both indoor air quality and the environment.
Conclusion
In conclusion, repainting your home's exterior is a wise investment that can significantly increase its value.
Beyond the visual transformation, repainting offers protection against the elements, enhances curb appeal, and attracts potential buyers.
Whether you're considering selling your home or simply looking to refresh its appearance, a fresh coat of paint is a step in the right direction.
FAQs
Q1: How often should I repaint my home's exterior?
A: The frequency of repainting depends on factors like climate and paint quality, but it's generally recommended every 5-10 years.
Q2: Can I change the color drastically?
A: Yes, you can change the color, but consider the neighborhood's aesthetic and architectural style.
Q3: Should I hire a professional or DIY?
A: While DIY is an option, professional painters ensure a higher-quality and longer-lasting finish.
Q4: Are there eco-friendly paint options? 
A: Yes, many manufacturers offer low-VOC and environmentally friendly paint choices.
Q5: How much does a professional painting job cost?
A: The cost varies based on the size of your home, its condition, and your location, but the investment often yields a high return.
Q6: Can I paint over existing paint, or do I need to remove the old paint first?
A: In many cases, you can paint over existing paint as long as it's in good condition. However, for optimal results, it's recommended to remove loose or peeling paint before applying a new coat.
Q7: What's the best time of year to repaint the exterior of my home?
A: Spring and fall are often considered the best seasons for exterior painting. The weather is typically mild, which allows the paint to dry and cure properly.
Q8: How do I prepare my home's exterior for repainting?
A: Preparation is key. Clean the surfaces thoroughly, repair any damaged areas, and ensure a smooth surface by sanding or scraping where necessary.
Q9: Can repainting help with energy efficiency?
A: Yes, choosing light-colored paint or reflective coatings can help reduce heat absorption, which can contribute to improved energy efficiency and lower cooling costs.
Q10: What should I look for in a professional painting contractor?
A: When hiring a painting contractor, ensure they are licensed, insured, and have a solid reputation. Ask for references, view their past work, and get a detailed written estimate before making a decision.