When it comes to enhancing your home's curb appeal, one of the most impactful and cost-effective methods is a fresh coat of paint on your exterior walls. 
Painting the exterior of your house not only beautifies it but also provides protection against the elements.
However, achieving a flawless finish requires careful planning and execution.
In this comprehensive guide, we'll share expert tips and tricks for a successful exterior house painting project.
Choosing the Right Paint
Selecting the right type of paint is crucial to achieving a long-lasting and appealing finish.
Consider the following factors:
Paint Type
Latex or Oil-Based: Determine whether latex or oil-based paint is suitable for your exterior surfaces.
Latex is preferred for most applications due to its durability and easy cleanup.
Finish
Gloss, Semi-Gloss, or Flat: Decide on the finish that suits your home's style and your personal preferences.
Glossy finishes are more durable but may highlight imperfections.
Color Selection
Bold vs. Subtle: Choose a color scheme that complements your home's architecture and the neighborhood's aesthetics.
Bold colors can make your house stand out, while subtle tones offer a classic look.
Surface Preparation
Before you begin painting, it's essential to prepare the surfaces adequately to ensure a smooth and even finish.
Cleaning
Power Washing: Clean the exterior surfaces using a power washer to remove dirt, grime, and loose paint.
Repairs
Patching and Sanding: Address any cracks, holes, or imperfections by patching them with the appropriate filler and sanding the surfaces.
Primer
Primer Application: Apply a high-quality primer to create a stable base for the paint and improve adhesion.
Paint Application
Now it's time to start painting your home's exterior.
Tools and Equipment
Quality Brushes and Rollers: Invest in high-quality brushes and rollers to ensure smooth and even application.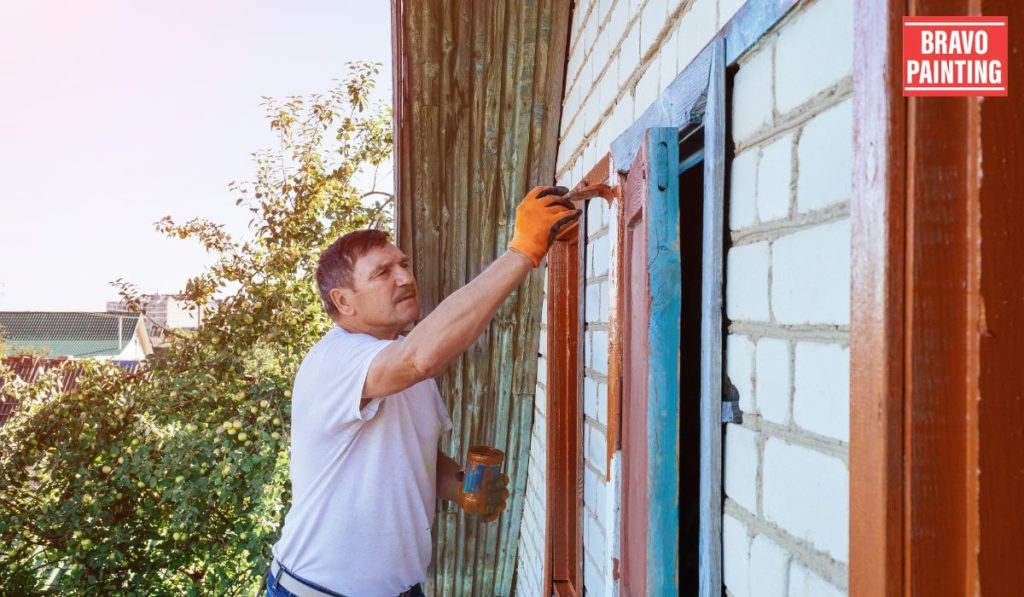 Technique
Brush vs. Roll: Learn the proper techniques for using brushes and rollers, as each has its advantages in different situations.
Multiple Coats
Thin Coats for Even Coverage: Apply multiple thin coats of paint rather than a single thick coat for better coverage and durability.
Weather Considerations
The weather can greatly affect your painting project's outcome.
Ideal Conditions
Mild Temperatures: Plan your painting project during mild weather conditions to ensure optimal drying and adhesion.
Avoid Rain
Rain-Free Forecast: Check the weather forecast to avoid painting on days with rain or high humidity.
Safety Measures
Safety should always be a priority during any DIY project.
Protective Gear
Safety Equipment: Wear appropriate safety gear, including goggles, gloves, and a respirator mask.
Ladder Safety
Secure Ladder Placement: Ensure your ladder is stable and placed on a flat surface to prevent accidents.
Clean-Up and Maintenance
After completing your exterior house painting project, it's essential to wrap up and maintain the results.
Clean-Up
Proper Disposal: Dispose of paint and painting materials responsibly, following local regulations.
Maintenance
Regular Inspection: Periodically inspect your painted surfaces for signs of wear and touch up as needed to prolong the paint's lifespan.
Conclusion
By following these exterior house painting tips, you can transform your home's appearance, protect it from the elements, and increase its curb appeal. 
With the right paint, proper surface preparation, and attention to detail, your DIY painting project will yield impressive results.
FAQs
How often should I repaint my house's exterior?
It depends on factors like climate and the type of paint used, but generally, you should repaint every 5-10 years.
Can I paint over old paint without priming?
It's recommended to use a primer, especially if the old paint is in poor condition or if you're making a significant color change.
What's the best time of year to paint the exterior of my house?
Spring and fall are ideal, as they typically offer mild temperatures and lower humidity.
How can I prevent paint from peeling or blistering?
Proper surface preparation, including cleaning, patching, and priming, is key to preventing peeling and blistering.
Should I hire a professional painter or DIY?
It depends on your experience and the scope of the project. Smaller projects can often be tackled as a DIY, but larger ones may benefit from professional expertise.
What's the average cost of an exterior house painting project?
The cost of an exterior house painting project can vary widely depending on factors such as the size of your home, the type of paint you choose, and any necessary repairs. On average, it can range from a few hundred to several thousand dollars.
Can I paint my house during the winter months?
While it's possible to paint your house during the winter, it's generally not recommended, especially in regions with cold temperatures. Cold weather can affect paint adhesion and drying. It's best to plan your painting project for milder seasons.
Are there any eco-friendly paint options for exterior painting?
Yes, there are eco-friendly or "green" paint options available that have low volatile organic compounds (VOCs). These paints are less harmful to the environment and indoor air quality. Look for paints labeled as "low-VOC" or "zero-VOC."
What should I do if I encounter lead-based paint on my exterior surfaces?
If your home was built before 1978, there's a possibility of lead-based paint. If you suspect lead-based paint, it's crucial to follow lead-safe practices when scraping or sanding. You may need to consult with a professional for safe removal.
Can I paint over vinyl siding?
Yes, you can paint over vinyl siding if you follow the proper preparation steps. Clean the siding thoroughly, prime it with a suitable primer, and then apply an exterior latex paint. Be sure to choose a color that is lighter than the existing siding to prevent warping due to heat absorption.