There are lots of fun and unique paint colors for homes in Atlanta, Georgia. But with so many fun colors to choose from, choosing just one may get overwhelming. Luckily, we at Bravo Painting Company are here to help you decide what colors to paint your home and provide you with all the tricks and tips needed to make your decision. In this article, we will discuss popular exterior paint colors in Atlanta, Georgia, and how you can choose the best palette for your home.
Architectural Style and Trendy Colors
With the pervasive, simple style of colonial homes in Georgia, there are many colors you can work with. Popular paint colors include both darker shades as well as light cream colors. For example, navy blue, charcoal gray, earthy colors (such as brownish-gray and sage-green), autumn colors, and dark green are some popular paint colors for home exteriors in 2022. And you do not always have to stick to just one color! Two-tone homes are becoming more common than ever before.
Other ways to create a unique and aesthetically wonderful home are through accent and contrast colors. You can paint your home black, for example, and accent the bold color choice with a cream color around your door frame, fences, porches, window frames, and front door.
With the architectural style of homes found in Atlanta, beautifully designed and detailed doors tend to draw attention. Therefore, finding a perfect color to accent your door against your home is an important color choice. These accents have greatly grown in popularity recently.
Additionally, a traditional go-to color for the home exterior is still an off-white tone since it works with all types of wall materials, such as wood, fiber cement, stucco, bricks, aluminum, and vinyl siding. But let's dig a bit deeper and learn more about how style and material can impact your color choice!
Unique Characteristics of Atlanta, Georgia
Atlanta homes have plenty of unique qualities. The area considered Metro Atlanta is actually made up of 29 counties, and each has its own style and identity. With this large city comes much diversity. Atlanta's homes have a range of different colors, sizes, and building styles ranging from one to three stories.
Popular Colors for Wood Homes
Some of the most popular colors for wood are autumn reds, blueish-gray, and greenish-gray. These colors are especially prominent in Atlanta's colonial-style homes, which are often made out of wood. Many colonial-style homeowners enjoy the accented colorization on the home's exterior as well.
Popular Colors for Brick Homes
Some of the most popular paints for brick walls are lighter and creamier colors, though some still prefer darker colors depending on the look you are going for. Lighter colors give off a classic and timeless style, but for a more powerful and dramatic look, darker colors are more effective and ideal. These colors include dark gray, dark navy blue, baritone blue, and dark chocolate brown.
Popular Colors for Fiber Cement Homes
The most common type of paint used for fiber cement is acrylic and/or latex paint. Paint on fiber cement typically lasts ten years, so contacting your local paint specialists, Bravo Painting, is an excellent way to ensure your paint stays vibrant for as long as possible. There are so many different types of popular paint colors depending on the style you are working towards.
And if you are looking for a color that makes your home stand out, having a fiber cement home can help achieve that status. Blues and greens and even yellows. Fiber cement absorbs the colors well with a long life span of color, which is why having fiber cement is excellent for brighter tints.
Popular Colors for Stucco Homes
Stucco is an excellent option for exterior walls in Atlanta, Georgia. The flat surface is easy to submerse with paint. Some of the most popular stucco colors are gray, tan, beige, and off-white. In Atlanta, fun and popular colors used are sky blue, orange, rose pink, and coral, among others.
And these colors can also be paired together to accent each other well, which is where we at Bravo Painting Company are able to help you pick the perfect colors for your home. Deeper reds (such as the color of red wine) tend to match well with different shades of gray and off-white.
Popular Colors for Aluminum Exteriors
Similar to fiber cement, acrylic and latex paints are the best fit for aluminum siding. Aluminum is often used throughout the building of the entire home due to its lightweight and being water and corrosion-resistant. Aluminum is used throughout your home, not just as siding. It can also make up part of the roof and inner areas of the walls.
Popular Colors for Vinyl Siding
Some popular colors for vinyl siding include brown, blue, gray, yellow, and green. Wait…So what exactly is vinyl siding? Vinyl siding is polyvinyl chloride (PVC) used to weatherproof the house and as decoration.
Depending on the style of the vinyl, it can serve as a copycat for different materials, such as wood. This is why there is a multitude of paint options for vinyl siding.
Popular Architectural Styles of Atlanta, Georgia Homes
Some popular styles include Victorian, Colonial, Bungalow, Craftsman, and Tudor that more often than not, are two stories high. There are also many modernist and luxury homes in Atlanta.
Victorian Homes
The main characteristics of Victorian homes are the steep triangular and churchlike roofs, with colorfully painted bricks and painted rails. These Victorian-style homes are an excellent example of ways the colorful rails can accent the rest of the home. Victorian homes also tend to be two or three stories.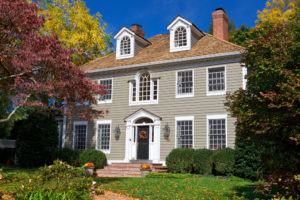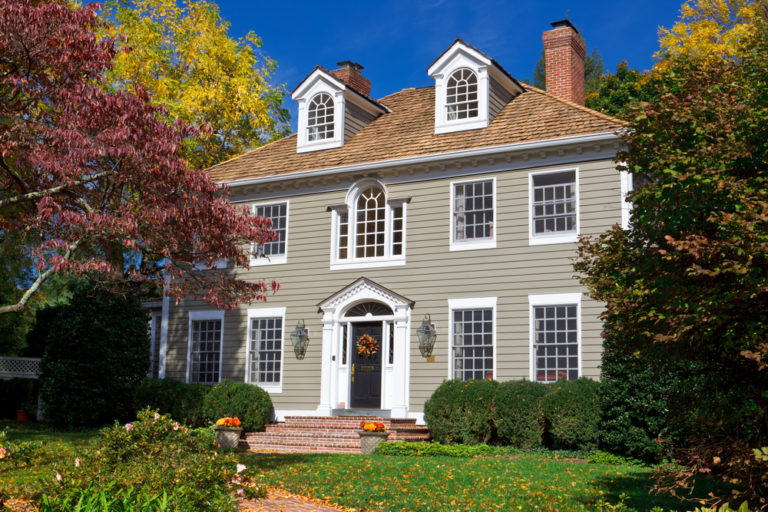 Colonial Homes
Colonial homes are considered First Period British style, as the style was popular during British rule. They are a traditional and minimalistic style with a square or rectangular shape. They are usually made of brick, wood, or stone. Popular paint colors for colonial-style homes include red, yellow, and blue.
Bungalow Homes
A bungalow home is usually one to one and a half stories that merge into a sloped roof. Much smaller than the above-mentioned home styles, bungalows often have dormer verandas and windows. What is a dormer veranda and window? The dormer styles are when roofs have a window or veranda that extends at a vertical angle above the roof. Lighter colors are used more often for bungalow homes.
Craftsman Homes
One of the easiest ways to identify craftsman homes is overhanging eaves with uncovered beams and rafters, patterned window panes, heavy and cone-shaped columns, and triangular roofs. The outside of the home is known for its blending with nature. Therefore, some popular colors for craftsman homes are more earthy.
Tudor Homes
You can identify a Tudor home by its unique steep gable roofing style, often with a chimney, decorative doorways, and with clustered windows. Why is it called a Tudor home? Tudor homes are named after Henry VIII, which is the era when this style of home became popular in Europe. Originally Tudor homes were black and white. Though, to bring out a splash of color, creams, yellows, greens, and light blues are popular.
Modernist Homes
Modern homes, with their fun and lavish styles, can have so many unique colors depending on the owner's or designer's preference. Some popular colors include tan, blue, red, cream, and gray. Earthy colors and dark colors are popular with accented trims, windows, and doors.
Luxury Homes
Luxury homes not only have a multitude of popular unique, and fun colors but a bunch of fun styles as well. Generally, luxury homes are aesthetically appealing with flat roofs, simplistic colors (such as light blue hues, light green, light gray, and beige), straight vertical and horizontal lines, and simple and undecorated windows.
How is Atlanta's Homes Unique in Comparison to the Rest of Georgia?
Atlanta is Georgia's largest city with the highest city population in the state and, therefore, the hugest housing market in Georgia. Atlanta metropolitan has twenty cities and counties.
Not only that, but Atlanta's downtown and midtown districts have beautiful art-deco style buildings and skyscrapers while also having more modern and luxurious home and building designs throughout the metropolitan as well. Atlanta's housing is generally much larger at a much cheaper price compared to other states as well. Though, the larger houses tend to be in suburbia.
Popular Exterior Paint Colors in Atlanta vs. the United States
Atlanta's most popular paint colors for their homes are neutral colors such as various colors of cream, off-white, gray, and tan. Though these colors are also popular in the United States, some of the other more popular colors for homes in the United States are lively greens, navy blues, gray-green colors, and dark charcoal colors.
Tips on What Colors to Choose
You can base the colors of your home on many factors, such as the material of your home (as mentioned above), the design and shapes of your doors, windows, roof, porch, patio, and so on, as well as depending on the detail of the exterior design. Here are a couple of tips:
Take into consideration the color and style of your roof.
Contrast is not the most popular style, but is still quite beautiful.
Accents give a unique spin to your paint.
Have your home match.

For example: keep the trim and gutters of your home the same colors.

You can also match the gutters, walls, and trim.
Make sure to take downspouts into consideration as well in order not to have any clashing colors.
Location

For example, if you live in the suburbs choosing more of a classic color (such as autumn or rust colors and champagne blue) is an excellent color choice.
It also depends on the style you are going for. If you want your home to stand out, use bright colors such as bright yellow, green, and orange. Let's say you want to add color, but do not want your home to stand out, using more pastel hues would suffice. These colors include light blue. If you are looking to make a statement and attract attention, using deep and bright colors will enhance what you are looking for. Examples of these colors are dark greens with white accents, deep blues, and dark grays with accents.
What Colors Help Your Home Value?
Neutral colors are the best way to cater to the majority of audiences. So, let's say you decide to sell or rent out your home. Neutral colors are an easy style that can leave the majority satisfied. These neutral colors are ageless and appealing that can promise consistent and increasing home values for property owners.
However, that does not mean having more unique and interesting colors is a bad thing. Having a different style and design can also attract many who enjoy peeking out of the usual "norm." Besides color, there is a multitude of other factors that affect your home value.
These other factors include the location of the home, its size, its upkeep, and the home's condition. Additionally, fresh paint, fresh flooring, maintaining gardens and landscapes and updating and maintaining patios, driveways, and decks are the most influential characteristics of your home and its value.
Takeaways
There are so many fun paint colors for your home, with a myriad of different color options and accents depending on the style of the home, the location, your home's features, and the surrounding landscape and gardens.
You can choose to add accents against the main color of the home on the door, window seal, gutters, and trims. Making sure to take care of your exterior home helps the beautiful paint jobs last, increasing or maintaining your home value.
Yes, there are so many home paint hues and colors to choose from, and yes, it can be a bit overwhelming. But this is why we at Bravo Painting Company are here to help. We can give you a consultation, as well as help you decide what colors are ideal for your home for your preferred preference and the general styles of your homes. So give us a call or visit our website to collaborate today!