A new paint job can revamp your home and makes it feel fresh and inviting. However, a good paint job does not come cheap. While the quality of service matters, the cost of painting can vary greatly in different regions. The cost is determined by several factors, including square footage, paint type, accessibility, and other factors.
If you decide to DIY interior painting, it's still not free. You will save money on labor, but the paint job might not look as good if you are not a pro, and you'll still need to purchase all the materials. That's why it's best to hire a professional painter who will charge a fair price and do a great job. Let's talk about interior painting costs and considerations.
How Much Does Interior Painting Cost?
Hiring a professional painter from Bravo Painting Company can be a smart decision. We'll come in and give you a free cost estimate based on your specific needs and budget.
Generally, it will cost about $8,000 to paint the entire interior of a 2,300-square-foot home or as little as $150 for a single room. However, those are not the standard figures, as every job has its own set of unique circumstances. High ceilings? Specialty paint? It all adds up!
What Is The Average Interior Painting Cost Per Square Foot?
A professional paint job usually costs between $2 and $6 per square foot. That's $2,000 to $6,000 for a 1,000-square-foot home. The difference in these figures is determined by additional areas like the ceilings, extra work such as moving the furniture, and whether they will be wall repairs, primers, and extra materials. Typically, most jobs overage $3.50 per square foot.
Factors That Affect The Cost To Paint A House Interior
Your home is likely your biggest asset. Therefore, you might find yourself spending a considerable amount if you hire a professional painter to do the job. However, the cost is determined by several factors, such as the type of paint, amount, tools, time, and complexity of the job. And when you're painting something as valuable as your home, you want to make sure you get a good value for what you spend.
How To Save Money On Interior Painting
Saving money is always a concern for homeowners. It can be expensive to have a minor repair for your home, so imagine what it would cost you to paint it! You don't have to drain your bank account. Instead, here's how to save money on interior painting:
Use a Primer Only if Necessary
A primer is not necessary when you can buy self-priming paint. That would save you money. At times, using a primer would actually save you money. For example, if you add a coat over a dark color with a light coat or the walls are rough, multiple coats would be needed unless you use a primer! Ask your painter what paint would give you the best coverage at the lowest price point.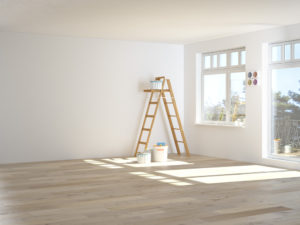 Empty Your Rooms
Once the painter walks into your home, they expect to find empty rooms. Some homeowners prefer moving their furniture to the middle of the room and covering them. However, if the painter does that labor on your behalf, you'll be required to pay for the service. An empty room will allow the painter to start right away and save you money and time.
Calculate Your Wall Space
People often buy too little or too much paint for their interior painting. Purchasing more wastes your time and money. Buying too much paint means you'll be spending on paint that you won't need. Know the size of your wall space, and buy a bit more paint for a few touchups later. Or better yet, let your painting company do the math and make the purchase!
Reuse Colors
Using different colors for every room is a luxury, but if you can't and want to save money, reuse the same color in different spaces. By doing so, you'll have less paint to buy, saving tens to hundreds of dollars.
Get A Personalized Quote From Our Professional Painters
At Bravo Painting Company, we take your needs to heart and always strive to exceed your expectations. We also understand how interior painting can be expensive and try to ease that financial burden as much as possible through some money-saving suggestions. Call us for a personalized quote!
Interior Painting Cost FAQs
Here are some common questions about interior painting costs.
How much do interior painters charge per hour?
Professional painters typically charge an hourly rate of $20 to $50, sometimes as high as $100 an hour, depending on the paint quality and job difficulty.
Do you paint the ceiling first or last?
The ceiling always goes first. Even the walls are painted from the top down and not from the floor up. If you paint the ceiling last, you'll spatter the freshly painted walls with the paint going to your ceiling.
What time of year is best to paint the interior of the house?
Winter or spring is the most appropriate time to paint your house. Georgia experiences shorter winters, but the months around it are always colder. Less humidity helps the paint dry faster and more evenly.