If your deck or porch needs a fresh coat of stain, you're in luck! We've got some tips and tricks to help make the process as smooth as possible. Read on for some helpful deck and porch staining tips and tricks, and get ready to enjoy those outdoor spaces all season long!
Common questions about deck and porch staining
If you're about to stain your porch and deck, let's start by answering your most common questions!
What is the most efficient way to stain a deck?
An airless paint sprayer is a quick and efficient way to apply stain. It is much quicker than using a roller or brush. While staining your deck with a sprayer is the fastest option, it helps to have some experience. If you've never used a sprayer before, you may want to stick to traditional methods for better results.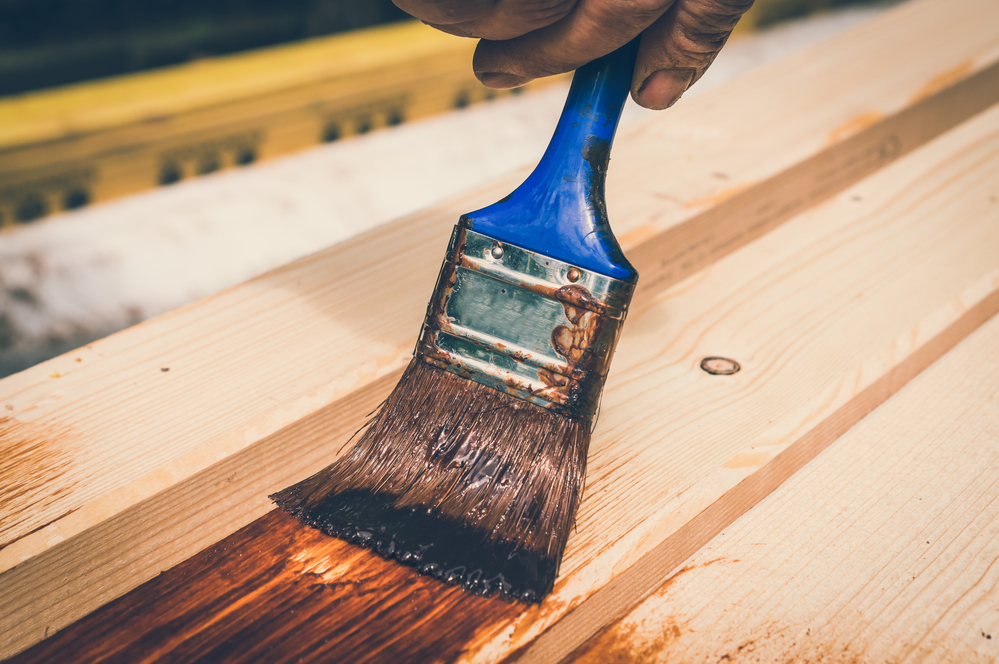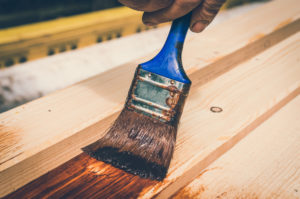 Is it better to brush or roll stain on a deck?
It's best to brush stain on a deck to get into all the nooks and crannies and ensure even coverage. However, there are benefits to rolling, too. For example, rolling allows you to cover a much larger surface area in less time.
Rollers are typically wider and more efficient than brushes, making them easier to operate for DIYers. Additionally, using a roller may help you achieve a smoother finish if you're less experienced with a brush.
What happens if you don't clean your deck before staining?
If you don't clean the deck before staining, the stain may not adhere properly and could start to peel. You'll likely end up with a blotchy, amateurish finish. Not the look you're going for! Any time saved by not cleaning and prepping your surface will be doubled in going back to fix the job.
What do you need to know before staining a deck?
Before you start any staining project, it's important to read the label carefully and follow the manufacturer's instructions. This will help you understand how long the stain will last, how many coats you'll need, and what type of brush or roller is best to use.
Helpful tips for deck and porch staining
Now that we've answered some common questions let's get into some helpful tips for deck and porch staining!
Keep an eye on the forecast
Stain dries best in warm, dry conditions. If it's too hot, the stain will dry too fast and could start to peel. If it's too cold, the stain won't adhere properly. Keep an eye on the forecast and choose a day with mild weather for your staining project.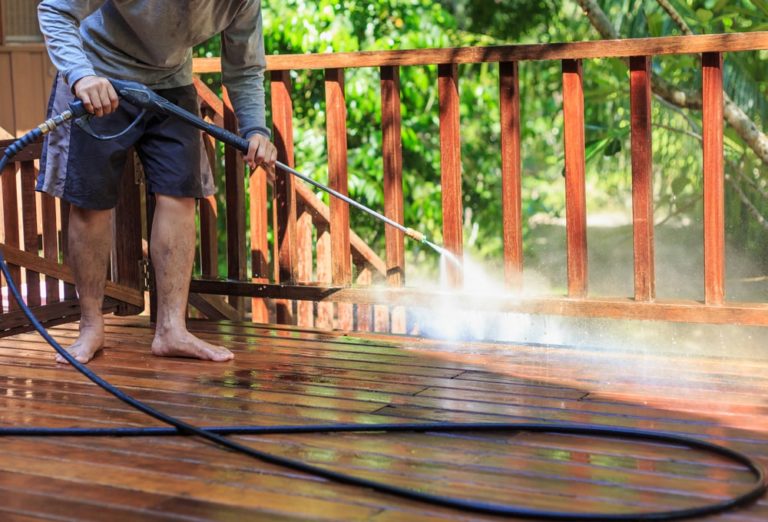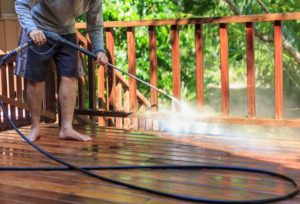 Make sure to prep the surface
Before you start applying any stain, it's important to prep the surface. This means giving it a good cleaning and making sure there's no dirt or debris that could prevent the stain from adhering properly. Take the time to sand down the surface, as well, to ensure there are no ragged edges.
Stick a putty knife between the boards to make sure there's no dirt or debris stuck in between. Better yet, use a pressure washer to give the deck a good clean a few days before. Just give it enough time to try before you start staining!
It's all about the brushes
The type of brush you use is important when deck staining. A natural bristle brush will absorb more stain and help you achieve even coverage. Synthetic brushes are better for working a water-based stain into the wood.
Planning to use a roller instead of a brush? Choose a roller with a nap that's ¼ inch or shorter. That allows you to apply a thin layer of stain that will adhere to the wood without pooling and causing dark spots.
Match the stain to your wood type
There are different types of decking, and each type of wood will take stains differently. Make sure you choose a stain that's designed for your specific type of decking. Remember that each type of stain has its advantages, and the type of stain already on your deck should impact your choice.
Take it easy and apply thin coats
When it comes to deck staining, less is more! It's best to apply several thin coats to your deck rather than one thick coat. This will help the stain last longer and prevent any peeling or flaking.
Take your time and use long, smooth strokes to stain two or three boards at once. If you're applying a solid stain, do so in thin coats. If you're applying semitransparent stains or clear sealers, take care to do so in even thinner coats. Whatever type of stain you choose, always apply two coats to ensure there are no missed spots. This will ensure a more uniform finish.
Takeaways
Deck and porch staining can be a great way to extend the life of your outdoor space and make it look its best. Keep these tips in mind next time you're ready to tackle a staining project and enjoy your beautiful deck or porch all season long. While these tips can be helpful, DIY isn't for everyone! If you want your deck and porch staining to have that professional look, contact Bravo Painting Company for your project.