Are you tired of your home's exterior being an eyesore on the block? If so, then getting it professionally painted could be the perfect solution! Professional painting offers homeowners and business owners a cost-effective way to spruce up their space – but how do you choose the right color for your building?
In this guide, we'll dive deep into everything that comes with choosing exterior paint colors: from testing swatches in different lighting scenarios to standing out from the crowd. No need to live with an outdated and forgettable home any longer; get started by transforming its look today!
The Importance of Exterior Painting
There are many reasons why exterior painting is important. The most obvious reason is that it keeps your home looking good. A fresh coat of paint can make your home look new again, and it can also boost your home's curb appeal, which can be important if you ever decide to sell it.
But exterior painting isn't just about appearances. It's also about protecting your home from the elements. A good coat of paint will keep your home's exterior walls from weathering and decaying, which can ultimately save you money in the long run.
If you're unsure about whether or not your home needs a fresh coat of paint, be sure to contact a professional painter for an assessment. They can tell you exactly what needs to be done in order to give your home a fresh new look.
Preparing Your Space for Painting
When you're getting ready to paint a room in your house, there are a few things you need to do in order to prepare the space. The first step is to remove all of the furniture and other objects from the room. This will allow you to paint all of the surfaces evenly and will make it easier to move around.
Next, you need to protect the floors and furniture by covering them with plastic sheeting. You can buy rolls of plastic sheeting at most hardware stores, and it's a good idea to have a few different sizes on hand so that you can cover large and small areas effectively.
Finally, you need to tape off any trim or other surfaces that you don't want to get paint on. This can be a bit tricky, but if you take your time and use good-quality tape, you should be able to avoid any problems.
Once you've completed these steps, you're ready to start painting! Make sure to follow the instructions on the paint can carefully, and be sure to wait for the paint to dry completely before moving any furniture back into the room.
Choosing the Right Color for Your Home
When it comes to painting your home, the options can be overwhelming. There are so many colors to choose from, and it can be difficult to determine which one is the best for your home. In this blog post, we will discuss the different factors you should take into consideration when choosing a color for your home.
One of the most important things to consider is your climate. If you live in a hot climate, you may want to choose a light or cool color, as darker colors can make a room feel warmer. If you live in a cold climate, on the other hand, you may want to choose a darker color to help keep your home warm.
Another thing to consider is the natural light in your home. If your home receives a lot of natural light, you may want to choose a lighter color so that the room doesn't feel too bright. If your home doesn't receive a lot of natural light, on the other hand, you may want to choose a darker color to help make the room feel cozier.
You also need to take into account the style of your home. If you have a traditional style home, you may want to choose a traditional color palette, while if you have a modern style home, you may want to choose a more modern color palette.
Don't forget to look around your neighborhood! What colors are popular in your area? Is there an HOA that sets guidelines or certain color palettes?
Finally, you need to think about your own personal preferences. Do you prefer light or dark colors? Bright or muted colors? Warm or cool colors? Once you have answered these questions, you will be able to narrow down your options and find the perfect color for your home.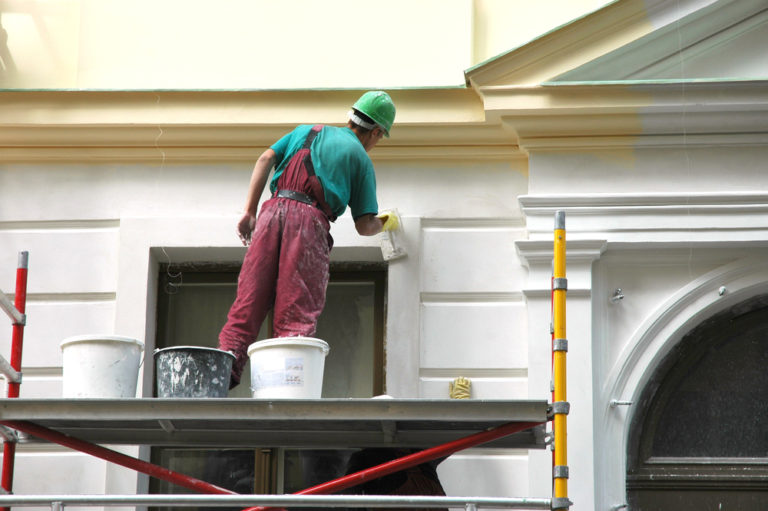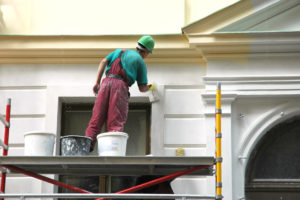 Painting Tips for a Professional Finish
The final step in giving your painting a professional finish is to apply a protective coating. This can be done with a spray-on sealant or with a brush-on coat of varnish. Either way, it will help keep your painting looking fresh for years to come. Be sure to follow the manufacturer's instructions for the specific product you are using, as each one will have its own application process and drying time.
Takeaways
When painting the exterior of a house, there are a few things that you need to keep in mind. The first is the climate. In areas with severe weather conditions, such as hurricanes or blizzards, you need to use a paint that can withstand high winds and extreme temperatures.
You should also consider the type of surface that you are painting. If the surface is made from wood, you will need to use a primer and a paint that is designed for wood. If the surface is made from vinyl or aluminum, you will need to use a paint that is specifically designed for those materials.
Finally, you need to choose the right color. You should always consult with a professional painter to get advice on the best color for your home.
Exterior painting is important for a number of reasons. It can boost your home's curb appeal, protecting it from the elements and making it look fresh and new. If you're thinking of giving your home a makeover with a new coat of paint, we've got you covered. Check out our blog for more tips and tricks. Got more questions? We've got answers. Reach out today!